---
Advertisement for the Revised Standard Version (1952)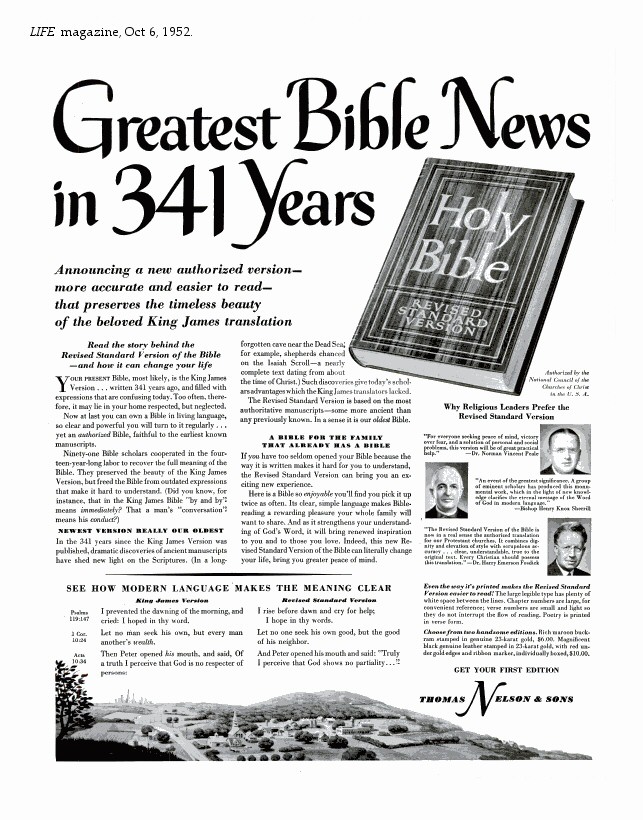 Greatest Bible News in 341 Years
Announcing a new authorized version—more accurate and easier ro read—that preserves the timeless beauty of the beloved King James translation
Read the story behind the Revised Standard Version of the Bible—and how it can change your life
Your present Bible, most likely, is the King James Version ... written 341 years ago, and filled with expressions that are confusing today. Too often, therefore, it may lie in your home respected, but neglected.
Now at last you can own a Bible in living language, so clear and powerful you will turn to it regularly ... yet an authorized Bible, faithful to the earliest known manuscripts.
Ninety-one scholars cooperated in the fourteen-year-long labor to recover the full meaning of the Bible. They preserved the beauty of the King James Version, but freed the Bible from outdated expressions that make it hard to understand. (Did you know, for instance, that in the King James Bible "by and by" means immediately? That a man's "conversation" means his conduct?)
NEWEST VERSION REALLY OUR OLDEST
In the 341 years since the King James Version was published, dramatic discoveries of ancient manuscripts have shed new light on the Scriptures. (In a long-forgotten cave near the Dead Sea, for example, shepherds chanced on the Isaiah Scroll—a nearly complete text dating from about the time of Christ.) Such discoveries give today's scholars advantages which the King James translators lacked.
The Revised Standard Version is based on the most authoritative manuscripts—some more ancient than any previously known. In a sense it is our oldest Bible.
THE BIBLE FOR THE FAMILY THAT ALREADY HAS A BIBLE
If you have too seldom opened your Bible because the way it is written makes it hard for you to understand, the Revised Standard Version can bring you and exciting new experience.
Here is a Bible so enjoyable you'll find you pick it up twice as often. Its clear, simple language makes Bible-reading a rewarding pleasure your whole family will want to share. And as it strengthens your understanding of God's Word, it will bring renewed inspiration to you and to those you love. Indeed, this new Revised Standard Version of the Bible can literally change your life, bring you greater peace of mind.
---
SEE HOW MODERN LANGUAGE MAKES THE MEANING CLEAR
| | | |
| --- | --- | --- |
| | King James Version | Revised Standard Version |
| Psalm 119:147 | I prevented the dawning of the morning, and cried: I hoped in thy word. | I rise before dawn and cry for help; I hope in thy words. |
| 1 Cor. 10:24 | Let no man seek his own, but every man another's wealth. | Let no one seek his own good, but the good of his neighbor. |
| Acts 10:34 | Then Peter opened his mouth, and said, Of a truth I perceive that God is no respecter of persons: | And Peter opened his mouth and said: "Truly I perceive that God shows no partiality ..." |
---
Authorized by the National Council of the Churches of Christ in the U. S. A.
Why Religious Leaders Prefer the Revised Standard Version
"For everyone seeking peace of mind, victory over fear, and a solution of personal and social problems, this version will be of great practical help." —Dr. Norman Vincent Peale
"An event of the the greatest significance. A group of eminent scholars has produced this monumental work, which in the light of new knowledge clarifies the eternal message of the Word of God in modern language" —Bishop Henry Knox Sherrill
"The Revised Standard Version of the Bible is now in a real sense the authorized translation for our Protestant churches. It combines dignity and elevation of style with scrupulous accuracy ... clear, understandable, true to the original text. Every Christian should possess this translation." —Dr. Harry Emerson Fosdick
Even the way it's printed makes the Revised Standard Version easier to read! The large legible type has plenty of white space between the lines. Chapter numbers are large, for convenient reference; verse numbers are small and light so they do not interrupt the flow of reading. Poetry is printed in verse form.
Chose from three handsome editions. Rich maroon buckram stamped in genuine 23-karat gold, $6.00. Magnificent black genuine leather stamped in 23-karat gold, with red under gold edges and ribbon marker, individually boxed, $10.00.
GET YOUR FIRST EDITION
THOMAS NELSON & SONS
---