---
Women in Combat
"In the lull of peacetime, regulations that kept women in uniform at a safe distance from combat were lifted. We are now paying the price and being made to think that our national defense rests on the ability to deploy teenage girls and single mothers. What a disgrace." —Kate O'Beirne, author of Women Who Make the World Worse: and How Their Radical Feminist Assault Is Ruining Our Schools, Families, Military, and Sports.
Online Articles

Jessica Lynch and other young women like her in the U.S. Army have been shot, raped and permanently traumatized because our military leaders have deliberately put them in harm's way.
The Iraqi Prisoner Abuse Scandal
Let's Pretend! By Jane Chastain, WorldNet Daily, 13 May 2004.
S&M Soldiers: How Sexual Politics Has Undermined the U.S. Military. By Rev. Aris P. Metrakos (Orthodoxy Today, 30 May 2004). "Sexual integration of the military has yielded the expected results: promiscuity and a breakdown of discipline."
Thelma and Louise in Iraq. By George Neumayr, The American Spectator, 5 May 2004. "The image of that female guard, smoking away as she joins gleefully in the disgraceful melee like one of the guys, is a cultural outgrowth of a feminist culture which encourages female barbarians. GI Janes are kicking around patriarchal Muslims in Iraq? This is Eleanor Smeal's vision come to life."
So much for a kinder, gentler military. WorldNet Daily, 6 May 2004. "For decades feminists have speculated what war would be like if women were in charge. The pictures from Abu Ghraib of male Iraqi prisoners stripped naked, demeaned and sexually humiliated by female soldiers blows the lid off the theory of a kinder, gentler military."
Abused Prisoners and Gender-Based Promotions. By Tom Marzullo, 4 May 2004. "In examining the failures of leadership in the case of this politically sensitive and volatile debacle, the question of whether our past and current promotion policies have systemically degraded our military capabilities, by promoting gender over competence, must be frankly asked — and fully answered."
US Army Report on Iraqi Prisoner Abuse. Complete text of Article 15-6 Investigation of the 800th Military Police Brigade by Maj. Gen. Antonio M. Taguba. "During the course of this investigation I conducted a lengthy interview with [Brigadier General Janis] Karpinski that lasted over four hours, and is included verbatim in the investigation Annexes. BG Karpinski was extremely emotional during much of her testimony. What I found particularly disturbing in her testimony was her complete unwillingness to either understand or accept that many of the problems inherent in the 800th MP Brigade were caused or exacerbated by poor leadership and the refusal of her command to both establish and enforce basic standards and principles among its soldiers." Also here.
The Feminist Road to Abu Ghraib. By Angela Fiori. "The Abu Ghraib scandal, more than any U.S. military scandal in recent memory, has exposed the utter depravity of allowing women to enter the armed services."
Torture Scandal Fingerprints. By Donald Devine, Washington Times, 12 May 2004. "A military investigation in late summer 2003 of the 800th Military Police Brigade under Brig. Gen. Janis Karpinski by Maj. Gen. Geoffrey D. Miller found a breakdown in discipline at the prison. When told that her troops were not even saluting, the general refused to order them to begin doing so. Central Command, concerned about the breakdown but apparently worried about disciplining one of the highest ranking female Army officers in Iraq, devised a compromise bureaucratic solution to hand control of the critical central interrogation prison at Abu Ghraib to the military intelligence unit questioning the prisoners."
No Preservatives: Abu Ghraib is the Fruit our Culture Has Spent a Generation Preparing. By Joel Beltz, WORLD 19/20 (22 May 2004). "What boneheaded decision-making did it take to fall back on the politically correct policy of assigning any young woman ... the task of serving as a guard in a prison holding hundreds of Islamic men?"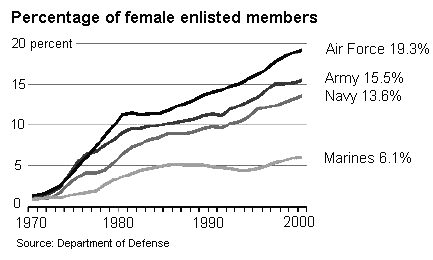 Organizations Opposed to Women in Combat
The Independent Women's Forum. See especially the Testimony of Anita K. Blair on Gender-Integrated and Gender-Segregated Training, a transcript of Mrs. Blair's testimony to the Subcommittee on Military Personnel of the House Armed Services Committee on 17 March 1999 (also here), and the article, Sink the Notion of Women on Submarines (also here).
The Center for Military Readiness. This is an independent educational organization formed to promote "sound military personnel policies in the armed forces." One of the statements in its charter reads, "The armed forces should not be used for political purposes or social experiments that needlessly elevate risks, detract from readiness, or degrade American cultural values." See the site's Issues index for online articles relating to Women in Combat, Co-ed Basic Training, Social Policies (e.g., Gender quotas, Double standards, Sensitivity training). Many in-depth articles in addition to these are also available to subscribers.
Organizations Promoting Women in Combat
The Minerva Center. "A Nonprofit Educational Foundation Supporting Study of Women in War and Women and the Military." Publisher of the feminist military journal, Minerva: Quarterly Report on Women and the Military.
The Defense Advisory Committee on Women in the Services. This advisory body is, as one critic describes it, "a tax-funded feminist power base within the Department of Defense." Primarily composed of civilian women who have no experience of military life, it took political correctness to extremes during the Clinton years. Appointed members 'advise' the Secretary of Defense on issues involving women. In the Spring of 2002 most of the Clinton appointees were replaced, but there are indications that the new appointees intend to conduct feminist business as usual.
The Alliance for National Defense. This outfit, which bills itself as "a voice for military women," is a lobbying organization led by some of the most doctrinaire advocates of Clinton-era social engineering in the military.
Books about Women in the Military
Online Bibliographies
DISCLAIMER: I was astonished to discover that the (female) research librarians who have compiled bibliographies on this subject for various branches of the armed forces could not resist using their assignments as an opportunity for advocating the use of women in combat and for disgruntled feminist polemics in general. The bibliographies listed here reflect that attitude and purpose in various ways, though they do notice some articles written by sensible military men who are opposed to women in combat. I have excerpted some titles and descriptions in the select bibliography which follows.
Women in Combat: An Annotated Bibliography. Compiled by "a member" of the Combined Arms Research Library, Command & General Staff College, Fort Leavenworth, Kansas. Although ostensibly "created for use as a resource document in the event the US Army is sued by a Plaintiff challenging the legality/constitutionality of the Army's policy excluding women from assignment to combat military occupational specialties," this generously annotated bibliography is in fact either compiled or revised for the purpose of aiding such plaintiffs.
Women in the U.S. Army: An Annotated Bibliography. By Beverly C. Harris and Zita M. Simutis, US Army Research Institute for the Behavioral and Social Sciences, 2002. Another "advocacy" bibliography.
Bibliography of Women in the Armed Forces. Compiled by Diana Simpson, Bibliographer at the Air University Library at Maxwell AFB, March 1998. Very extensive, but without annotations. Consists largely of titles which indicate a feminist point of view.
Marc I. Alderman, "Women In Direct Combat: What is the Price for Equality?" Monograph. US Army Command and General Staff College, School of Advanced Military Studies, Fort Leavenworth, Kansas, 1992. Argues that allowing women in direct combat assignments in the US Army will adversely affect unit cohesion and, as a result, degrade combat effectiveness.
Arthur J. Corbett, "Women In Combat: The Case for Combat Exclusion." Rpt. Naval War College, Newport, Rhode Island, 1993. Documents the differences that occur naturally in the sexes which justify exclusion of women from combat units. The differences between men and women are examined from biological, philosophical, and other scientific perspectives.
Martin Van Creveld, "Why Israel Doesn't Send Women Into Combat." Parameters 23.1 (Spring 1993): 5-9. Debunks the often-heard argument that Israel has successfully used women in combat. No Israeli woman has served in combat since the establishment of the state of Israel in 1948. In fact, Israeli women have never deliberately been exposed to the risks of combat, not even in the most desperate situations. Experimenting with women in combat is a luxury Israel simply cannot afford.
Gene A. Deegan, Major General, USMC. "Women in Combat: A View From the Top." Marine Corps Gazette 76.9 (September 1992): 42-44. Extracted from General Deegan's statement to the President's Commission on the Assignment of Women in the Armed Forces on 25 June 1992, and from remarks made to his staff and subordinate commanders at the Marine Corps Recruit Depot, Parris Island. Argues that a mixed-gender rifle company would not have the same cohesiveness as an all-male rifle company, that the most important ingredient for success on the battlefield is the "heart and gut" of those soldiers or Marines who must attack and kill the enemy, and that women could not cope with the brutality, terror, fatigue, filth and Spartan conditions of infantrymen in war.
Mark L. Dembert, Captain, USN. "Women Shouldn't Serve on Submarines." U.S. Naval Institute Proceedings 121/8/1,110 (August 1995): 72. The author (a Navy psychiatrist) presents psychological facts which strongly indicate that women should not serve on submarines.
John F. Luddy II, Captain, USMCR. "On Women In Combat." Marine Corps Gazette 78.12 (December 1994): 55-57. The promotion of diversity and sensitivity in the military have little place in a profession that places a premium on group cohesion and the need to destroy the enemy. Those who would send women into combat are simply ignorant of the realities of war.
Paul H. Maubert, Major, USMCR. "Women, the Military, and Political Correctness." Marine Corps Gazette 77.9 (September 1993): 39. Argues that impartiality in combat decision-making would be severely compromised by the presence of women in combat units.
Mackubin T. Owens, Colonel, USMCR. "Women in Combat - Equal Opportunity or Military Effectiveness." Marine Corps Gazette 76.11 (November 1992): 32- 35. Opposes women in combat on physical, psychological, and legal grounds, and points out that although Congress has lifted the ban on women flying combat aircraft, it has not mandated such assignments. Congress left the decision to implement any changes to the Department of Defense, but if the politicians were not willing to bear the full blame for the consequences of opening combat specialties to women, the military should not take the burden upon itself.
John W. Ripley, Colonel, USMC (Ret). "Women in Combat? A Marine Veteran Says, Simply, No." Marine Corps Gazette 76.11 (November 1992): 36-37. Excerpted and condensed from testimony given by the author on June 26, 1992, to the Presidential Commission on the Assignment of Women in the Armed Forces. Argues that women do not belong in combat, including flying combat aircraft, because they lack the combination of physical strength, courage, and suppression of emotion that is required on an hourly basis in combat. Moreover, in the event of capture they will be subjected to rape and other brutal treatment at the hands of barbaric enemies.
Alexander F.C. Webster, Chaplain (Captain), "Paradigms of the Contemporary American Soldier and Women in the Military." Strategic Review 19.3 (Summer 1991): 22-30. Argues that feminism in the armed forces will have a negative effect on the military profession as a whole. The advancement of women in the military can only proceed under a "paradigm" of "military careerism" which downplays combat skills and readiness.
Government Documents
Gender Issues: Information on DOD's Assignment Policy and Direct Ground Combat Definition: report to the Ranking Minority Member, Subcommittee on Readiness and Management Support. General Accounting Office. Washington DC, 1998. Reviews various issues pertaining to the treatment of men and women in the armed forces, focusing on the numbers and types of positions that are closed to women and the associated justifications for their exclusion.
Gender Issues: Trends in the occupational distribution of military women: report to the Ranking Minority Member, Subcommittee on Readiness and Management Support. General Accounting Office. Washington DC, 1999. Information on the trends in the occupational distribution of military women, focusing on all occupations women were in during fiscal years 1990 and 1998.
The Presidential Commission on the Assignment of Women in the Armed Forces, Report to the President, November 15, 1992, U.S. Government Printing Office: Washington, DC. Presents a review of laws and policies and the commission's recommendations for the future assignment of women in the Armed Forces.
"O ye subverters of all decency, who use men, as if they were women, and lead out women to war, as if they were men! This is the work of the devil, to subvert and confound all things, to overleap the boundaries that have been appointed from the beginning, and remove those which God has set to nature. For God assigned to woman the care of the house only, to man the conduct of public affairs. But you reduce the head to the feet, and raise the feet to the head. You suffer women to bear arms, and are not ashamed." —John Chrysostom (AD 344-407), Homily on Titus.
---